South Pasadena Senior High School
Class Of 1971
In Memory
Becky Buchanan (Miller)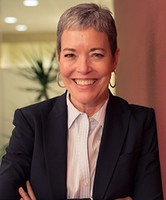 Rebeccah "Becky" Buchanan Miller / 5/25/53 - 8/31/17

We are saddened to report that Becky Buchanan, surrounded by family, passed away on Aug. 31 of cancer in her San Jose home.

Many of you will recall that Becky was a brilliant light during our high school days. She was warm, considerate, funny and bright. Her smile and laugh were infectious. Lots of us last saw her at our 40th high school reunion. She was always kind to everyone and her friendship was treasured.
Becky is survived by her daughters Lauren Miller (husband Nathan Stoll) and Devon Rustchman Miller (husband Dave Rustchman Miller), sons Robert Miller and Cooper Miller (wife Janie Yoo Miller). She is also survived by her sisters Peggy Buchanan, Jenny Buchanan, and Emily Buchanan (husband Raymond Ritchie), and her mom Elsie Sadler. And of course grandchildren, aunts, uncles, cousins, nieces and nephews and loving friends.

After high school Becky went to the University of California at Berkeley and Cal's Boalt Hall School of Law. She received her JD in 1986. Certified by the California State Bar of Legal Specialization as a specialist in estate planning, trust and probate law, she provided expertise and counsel to her clients for nearly 30 years. Becky was a partner in the Trusts & Estates group of the law firm of Lakin Spears LLP which she had joined in 2002. Becky also was a member of the board of the Silicon Valley Bar Association, and volunteered as a Judge Pro Tem in Santa Clara County.

We will deeply miss her.